The Wedding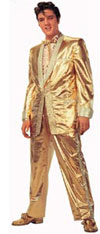 We were married on April 15, 2006, in Las Vegas, exactly three years to the day after we first met. The wedding was held at the Viva Las Vegas Wedding Chapel, where the King himself sang and performed the ceremony.
After the wedding, we went to Battista's Hole in the Wall Restaurant to celebrate with dinner and live accordion entertainment.
Relive the moment by watching the wedding video, looking at photos, or reviewing the full wedding weekend schedule.